Uniform
Everyday Wear
Navy Blue sweatshirt/ cardigan with school emblem.
Light Blue polo shirt with school emblem or plain shirt.
Grey skirt/pinafore or smart Grey trousers.
Grey socks.
Black school shoes. (no boots/trainers)
Plain Hairbands.
Summer Option
Blue and White summer dresses with white socks.
Smart Grey shorts.
Please label all uniform items clearly with labels or a permanent marker.
Our school champions the right of staff and students to embrace all Afro-hairstyles. We acknowledge that Afro-textured hair is an important part of our Black staff and students' racial, ethnic, cultural, and religious identities, and requires specific styling for hair health and maintenance.

We welcome Afro-textured hair worn in all styles including, but not limited to, afros, locs, twists, braids, cornrows, fades, hair straightened through the application of heat or chemicals, weaves, wigs, headscarves, and wraps.

At this school, we recognise and celebrate our staff and students' identities. We are a community built on an ethos of equality and respect where hair texture and style have no bearing on anyone's ability to succeed.
The Halo Code focuses on hair textures and styles most commonly associated with the Black community. The term Black has historically been used as a racial and political label. Here, we use it to refer to people of the African Diaspora, including those with mixed heritage, who as a result of their ancestry have Afro-textured hair.

The Halo Code is a gender neutral approach. 
We may issue further guidance around Afro-texture hair and protective styles, for example; That head wraps and scarves should reflect other elements of the dress code such as our school colours.

 That hair be tied up for health and safety reasons, when appropriate.

That hair colour is reflective of the wider dress code policy.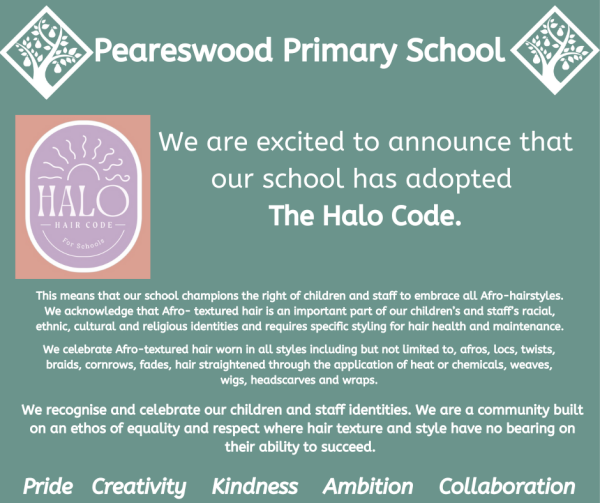 PE Kit can be worn all day on your child's allocated PE day.  
White, round necked t-shirt with or without the school emblem
Black/Navy shorts
Plimsolls for indoor PE
Trainers for outdoor PE
Black/Navy tracksuits may be worn outside in Winter
Nursery, Reception and Key Stage 1 Classes only:  outdoor all-weather anoraks and trousers
Outdoor all-weather anoraks and trousers
Wellington or waterproof boots
Watches may be worn at the owner's risk. A school preference would be an analogue clock to support with telling the time.
One pair of stud earrings (which will be removed during PE by the child). Please note that staff are not permitted to remove earrings